Alert Logic® Cloud Defender™ does have Webhook functionality for notifications that allows it to integrate with third-party solutions. With the Notifications Webhooks functionality, Cloud Defender can be configured to send notification data (incident notifications, correlation alerts, etc.) in JSON format to a specified HTTP/HTTPS endpoint in your environment. Upon receiving these Webhook requests, you are free to use the data in any way that suits your needs.
Note: The current implementation of Cloud Defender Webhooks will not work with a receiving endpoint that is using SSL with self-signed certificates. The functionality is implemented so that only trusted Certificate Authority-signed certificates will be accepted.
If you are an Alert Logic Cloud Defender, Threat Manager, or Log Manager customer, find the Webhooks functionality in the Alert Logic console by clicking Configuration > Notifications > Webhooks.

The following image shows the Webhooks page with the option to send a test request to an endpoint.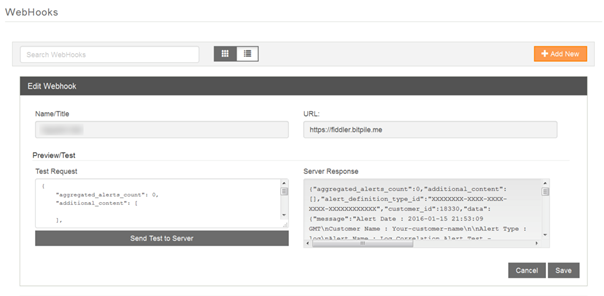 If you are an Alert Logic Essentials, Professional, or Enterprise customer, click the menu icon (

) > Configure > Webhooks.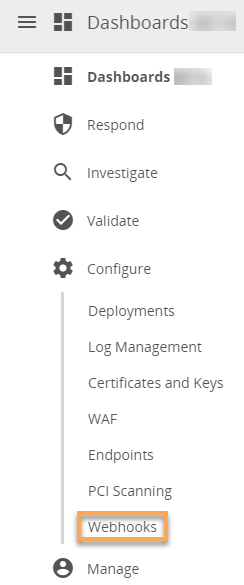 Click on the add icon and the following image will display. This window gives the option to send a test request to an endpoint.