Alert Logic® Managed Detection and Response has been certified by the Center of Internet Security (CIS) for the Microsoft Azure Foundations Benchmark. The CIS Microsoft Azure Foundations Benchmark is a set of guidelines that help you remove guesswork regarding how to secure your Azure environment by providing step-by-step implementation and assessment procedures from industry security experts that go beyond high-level security guidance.
CIS is a globally recognized security organization with a mission to identify, develop, validate, promote, and sustain best practice solutions for cyber defense. With this announcement, Alert Logic is introducing several new features that allow you to assess your Azure environment against the Benchmark, just like you can already do for AWS.
New Configuration Checks
New configuration checks have been implemented that support both Level 1 and Level 2 of the CIS Microsoft Azure Foundations Benchmark. These configuration checks include, but are not limited to:
Identity and Access Management
Logging and Monitoring
Networking
New Remediation Guidance
Remediations and exposures based on the CIS Microsoft Azure Foundations Benchmark are now available on the Exposures page in the Alert Logic console and can be managed in the same way as other remediations and exposures. These remediations and exposures provide step-by-step remediation guidance for the Azure Console and command line interface to resolve configuration settings that do not meet the Foundations Benchmark.
New CIS Microsoft Azure Benchmarks Report
A new CIS Microsoft Azure Benchmarks Report is available that identifies your Azure resources and whether they are compliant or non-compliant for each new configuration check. This report can be accessed within the navigation menu (

) at Validate > Reports > Compliance > CIS Microsoft Azure Benchmarks.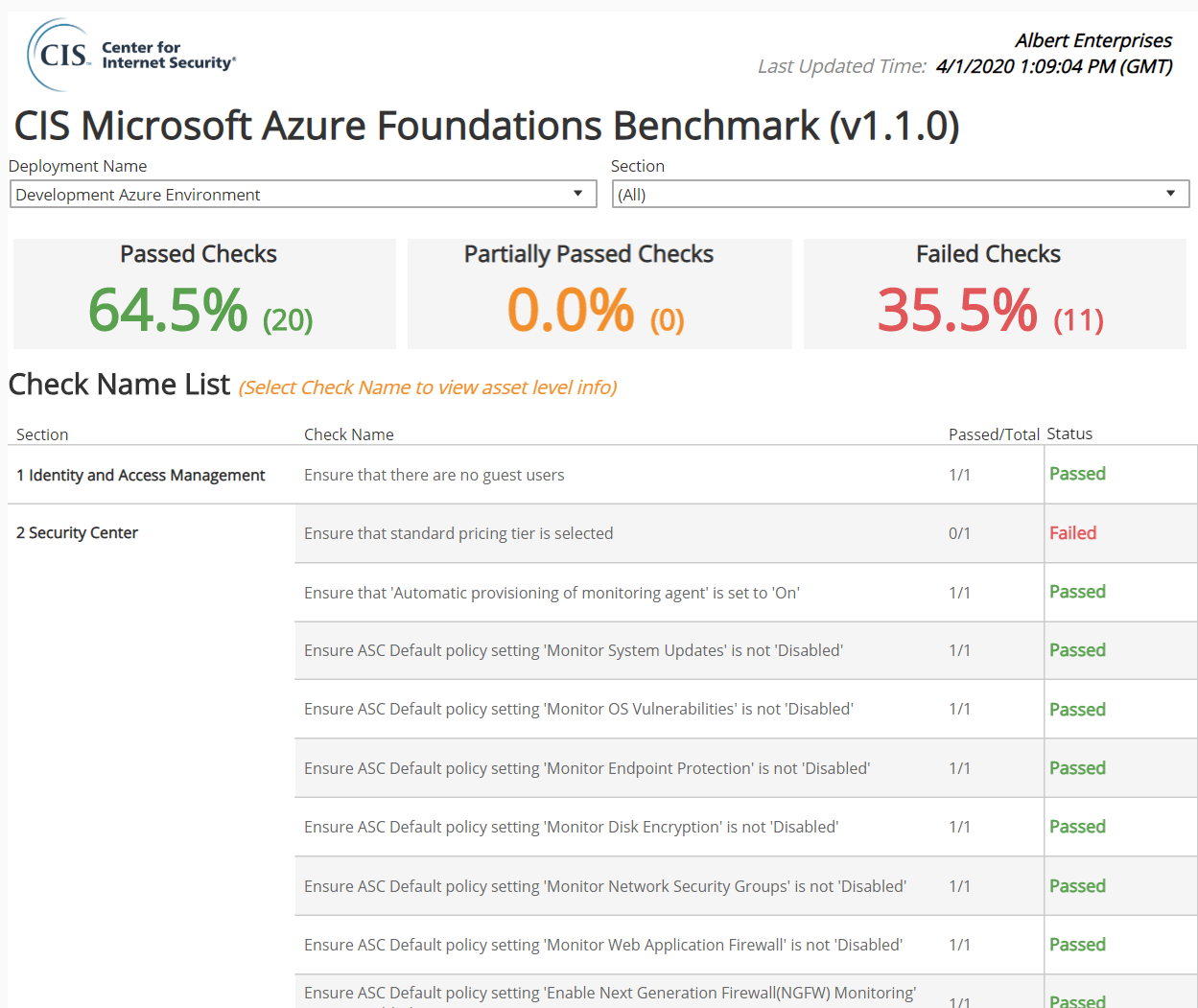 For more information about this report, refer to our CIS Microsoft Azure Foundation Benchmark documentation.
Updated RBAC Requirements
With this release, updates to the role-based access control (RBAC) role document are required to assess your account against the new configuration checks. If you have existing Azure deployments or you already have an app registration set up, refer to our Update your Azure Deployment for CIS Foundation Benchmarks documentation to allow Alert Logic to perform CIS Benchmark checks on your deployments.