The Alert Logic Application Registry allows you to integrate supported third-party applications with your existing Alert Logic service to configure log collection. The following chart describes the current applications available to Alert Logic customers, and we are continuously expanding available applications.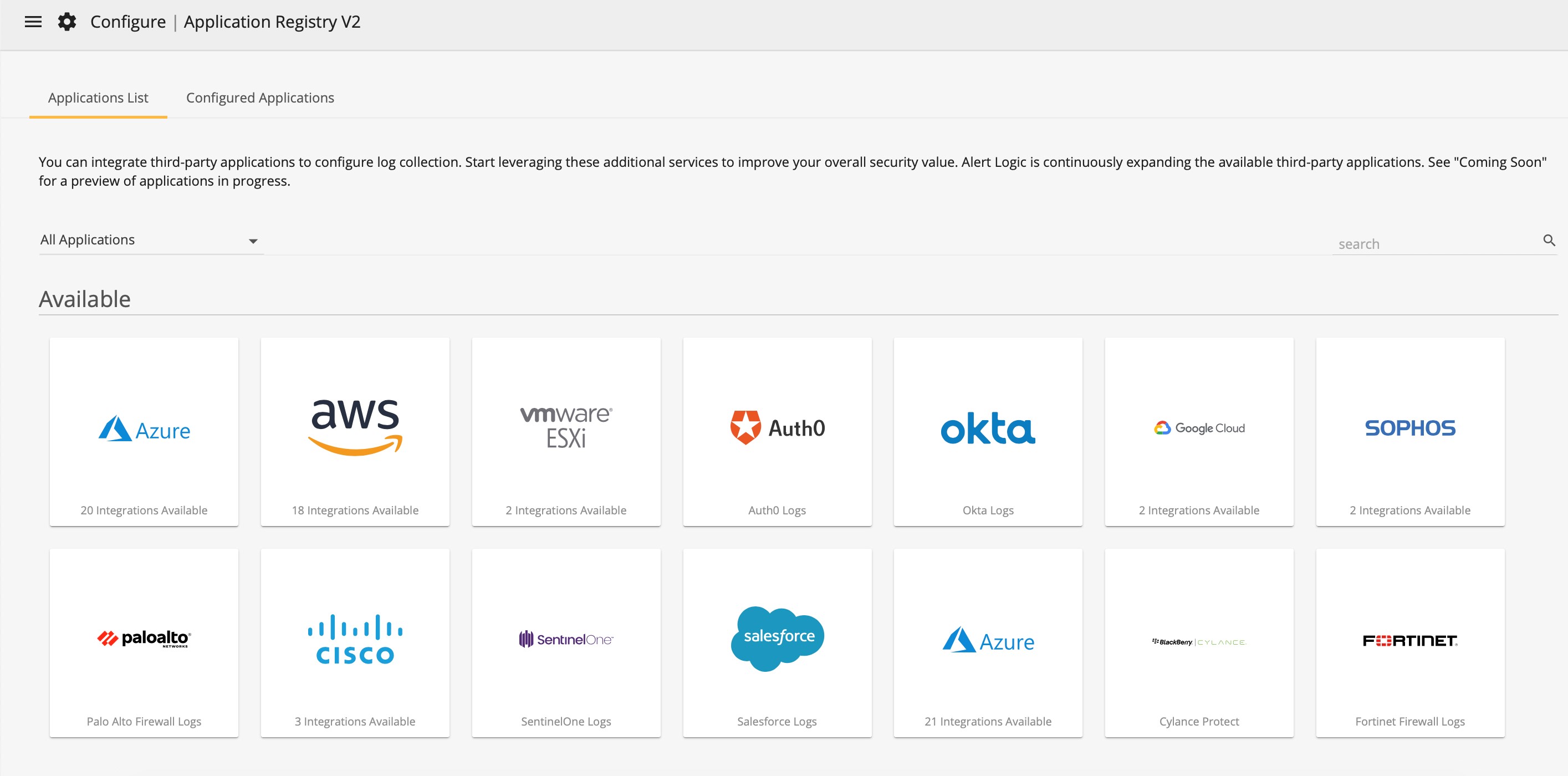 Note: The Application Registry can be found in the Alert Logic console at

(navigation menu) > Configure > Application Registry.
Available Application Registry Platforms
Platform Name
Product Type
Ingestion Availability
Security Content Availability
Log Type
Incident Types
Palo Alto
Firewall
Available - Syslog
Available
CSV

Outbound Network Connection to dropper IPs

Outbound connections indicating remote endpoint administration traffic

Cisco ASA
Firewall
Available - Syslog
Available
Text

Outbound Network Connection to dropper IPs

Outbound connections indicating remote endpoint administration traffic

Fortinet
Firewall
Available - Syslog
Available
KVP

Outbound Network Connection to dropper IPs

Outbound connections indicating remote endpoint administration traffic

Checkpoint
Firewall
Available - Syslog
Available
Text

High-Risk Endpoint Alerts

Possible Credential Stuffing Activity Detected from Source IP

Network device login failures

Port Scan detected by Firewall

Brute Force Activity Detected from Source IP
Okta
Authentication
Available
Available
JSON

Brute force activity

Credential stuffing

Disabled multi-factor authentication

User granted Admin privileges

User attempts access to admin application

Login from multiple countries detected in a single day

Login from anomalous geographies (UBAD)

Auth0
Authentication
Available
Available
JSON

Brute force activity

Credential stuffing

Login from multiple countries detected in a single day

Login from anomalous geographies (UBAD)

Office365
Productivity
Available
Available
JSON

Azure Security Center High Alert

Possible Credential Stuffing Activity Detected from Source IP Logins for User from Multiple Countries

Brute Force Activity Detected from Source IP
Cisco Duo
Authentication
Available
Available
JSON

Brute force activity

Credential stuffing

Login from multiple countries detected in a single day

Login from anomalous geographies (UBAD)
SentinelOne
Endpoint
Available
Available
JSON

SentinelOne Outbreak: Non-mitigated suspicious threat across multiple hosts

SentinelOne Outbreak: Malicious threat mitigated across multiple hosts

SentinelOne Agent: High severity alert

Carbon Black
Endpoint
Available
Available
JSON

Carbon Black: Endpoint - Ransomware detected

Carbon Black: Endpoint standard - Known malware detected

Carbon Black: Endpoint and audit and remediation - Potential new malware or suspicious event detected

Cisco AMP
Endpoint
Available
Available
JSON

Cisco Endpoint: Possible Ransomware TTPs detected

Sophos
Endpoint / Encryption
Available

Cisco Firepower
Firewall
Available - Syslog

Critical summary incident – Rogue Server Client/Desktop Attack Permitted

Critical summary incident – Infected System Server/Service Attack Permitted

Critical summary incident – Rogue Server Client/Desktop Attack Blocked

High summary incident per attacker – Infected System Server/Service Attack Blocked

CrowdStrike
Endpoint

Alerted when certain classes of malware are blocked, such as ransomware

Alerted on analytics from Alert Logic from EDR logs

Malware outbreak

Detection of hack tools, such as password stealing; typical indication of lateral movement

Detection of deeper system compromises

Alerted on anything else EDR does not block but raises as suspicious

Alerted when agent fails to remediate threat

Cylance
AV
Available - Syslog
Available
JSON

Cylance: Known hacktool detected

Cylance: Ransomware detected

GSuites
Productivity
Available
JSON

GCP (Stackdriver)
Platform
Available
JSON

AWS Workspaces
Platform / Productivity
Available

AWS Fargate
Container Service
Available

AWS CloudTrails
Platform
Available
JSON

AWS Organizational CloudTrails
Platform
Available
JSON

AWS S3
Platform
Available
JSON

Cisco Meraki
Firewall
Available - Syslog